Sat Jan 07, 2017 7:21 am
It generally takes a lot to dislocate a hip.
Is there a story that goes with it?
Sun Jan 08, 2017 8:58 pm
I had 335# on my shoulders for a squat and a bad spotter. Gravity did the rest when I couldn't finish my second rep.
Tue Jan 10, 2017 12:38 am
Ill never forget that sound when my shoulder popped back in
Tue Jan 10, 2017 1:55 am
When my shoulder went, I heard the thud. It was loud and forceful enough I immediately thought I got kicked in the armpit. Tried to get up looking for a fight before I realized my arm wasn't working
Fri Jan 13, 2017 7:05 am
I am limited to a leg press because of my knees and hips.
I may eventually get to where I can squat but no where near it now.
Glad you are ok now.

My left arm is about at best 2/3 the size of my right due to not being able to use it during the healing period.
I refused surgery and it did heal on it's own I can now hammer curl a 40 pound dumbbell with my left arm.
I know that is not much weight but hey, I 'm an old man.

I have seen several shoulder surgeries not turn out as well as hoped.
I decided to give nature a chance.
Roll the dice and sometimes you roll a seven sometimes you roll snake eyes.
Fri Jan 13, 2017 12:50 pm
I've had problems with both of my shoulders. I had surgery on the right and opted to try physical therapy alone with the left. They are about the same as far as usability. Getting back to normal was worse with the right because of the period of inactivity following the surgery. My arm froze in position and physical therapy was agony. The next time a doctor tells me I can go either way in regards to surgery or physical therapy, I am taking the cheaper route.

In regards to melee weapons, what are your thoughts on the shorter handled sledge hammers? Would they be too heavy to use? It seems they would do some serious damage if they could be wielded easily enough.
Fri Jan 13, 2017 4:54 pm
Too heavy in my opinion. I think you'd be able to bust rotting skulls with something much lighter.
Sat Jan 14, 2017 10:25 pm
Anything more than a 10 pound is going to be way to slow and hard to use for most people
A ten is going to wear a person down in a hurry.
With a shortened handle, just as tiring but with a shorter reach.
I think a 2.5 with the aforementioned short handle would be about the max for most people.
A carpenters hammer or even better an all steel framing hammer would concentrate the effort better than a sledge.
A welders chipping hammer might be the most effective for head shots.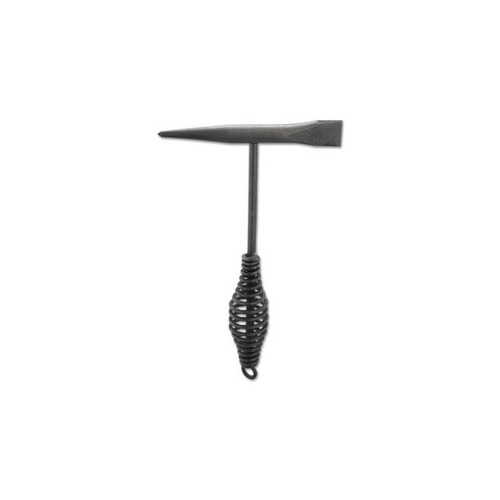 Thu Aug 24, 2017 3:53 pm
Saddleback Leather just posted this:
Sun Aug 27, 2017 8:09 am
That's a nice collection! Me jealous!!